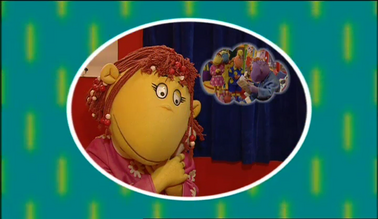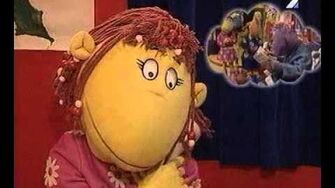 Fizz is feeling sorry for herself. Doodles keeps him company by saying Max takes him for a park-walk with his wish-bone. Fizz wishes all her friends were different - but wonders whether it will come true.
Trivia
This is the last episode to have a Tweenie TV video starting in Story Time. However, it's a bit rare that the Tweenie TV doesn't end with its circles.
This is also the last episode to feature Philippa Tipper. This time she tells the children to act out their story in their panto. In the video story of Aladdin, the girl being the princess is wearing Fizz's princess costume.
Featuring
Philippa Tipper and the Children at Warrender School, Ruislip.
Ad blocker interference detected!
Wikia is a free-to-use site that makes money from advertising. We have a modified experience for viewers using ad blockers

Wikia is not accessible if you've made further modifications. Remove the custom ad blocker rule(s) and the page will load as expected.