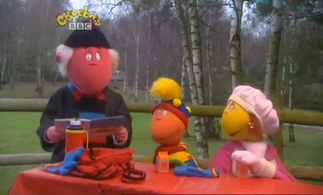 Max explains that in the winter you can have dragon breath when you go outside. The two Tweenies get very excited about their dragon breath, and sing a song about dragons. They notice the difference between the park in the summer and in winter. Max explains about hibernation and the cycle of nature. They make a dragon picture out of bits and pieces they find lying around, and return to the playroom to share their discoveries with the others.
Watch Episode
Ad blocker interference detected!
Wikia is a free-to-use site that makes money from advertising. We have a modified experience for viewers using ad blockers

Wikia is not accessible if you've made further modifications. Remove the custom ad blocker rule(s) and the page will load as expected.