''Tweenies Live! The Christmas Present'' was a Tweenies live tour that toured the UK as of 20th December 2001 - April 2002. It was released onto VHS on 4th November 2002.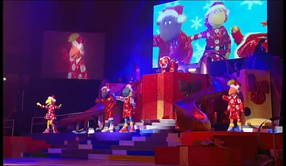 Join the Tweenies as they have some magical Christmas fun on stage. Bella has fun on a sleigh ride, Milo gets to play Simple Simon in a panto, Fizz has fun with Frosty the snowman and Jake gets to meet Santa claus. It was filmed at the Royal Albert Hall.
Songs
Trivia
As of 2002 when Izzles joined the show, Izzles was added to this tour. However the release on VHS (and on DVD - ''The Ultimate Christmas Collection'') Izzles isn't featured which shows that the released performance was from December 2001.
Releases
Gallery