''Tweenies Jungle Adventure'' is a Tweenies direct-to-video special released on 25th October 2004.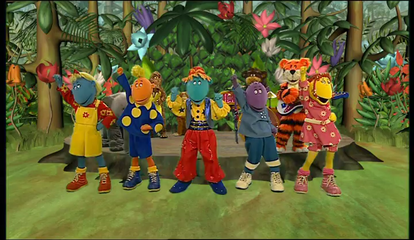 Fizz and Bella want to be pop stars, and Milo and Jake want to be jungle explorers, but how can they make their dreams come true? Max has an idea, they should conjure up Eddie, the Dream Genie! Eddie's song and knocking knees magic the Tweenies to the Jingle Jangle Jungle where every plant and animal is supposed to make their own music, but there's no jangle in the jungle and the animals they meet are all very glum! There's the guitarist tiger Rocking T, Crocker the saxophone-playing crocodile, Monkey the drummer, and Little Elephant with her trumpeting trunk. They all want to play their instruments in the jungle band but the mysterious Music Man won't let them.
The Tweenies are determined to help their new animal friends, and guided by fun loving Eddie they unravel the mysteries and strive to bring the jingle back to the jungle.
Releases
Ad blocker interference detected!
Wikia is a free-to-use site that makes money from advertising. We have a modified experience for viewers using ad blockers

Wikia is not accessible if you've made further modifications. Remove the custom ad blocker rule(s) and the page will load as expected.