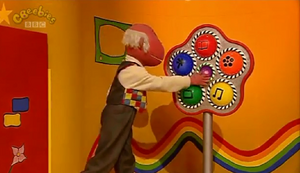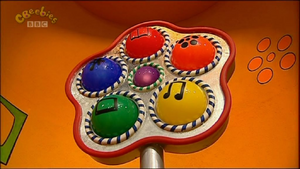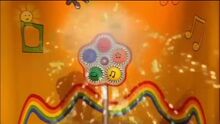 The Tweenie Clock is an electronic clock inside the playgroup.
It has five circular coloured lights arranged in a pentagonal shape with the lights denoting a special time.
At the beginning of every episode, a random character presses the clock and says "Tweenie Clock, where will it stop?".
Most episodes set inside the playgroup prominently feature the clock. In Clock Shock the clock malfunctions and a replica clock is created by the Tweenies.
Red: "Bella Says" Time
Orange: Big Dinner Time/Chase Around Izzles Time
Yellow: Princess Time
Green: Dotman Time
Blue: Horrible Hairy Monster Time
Purple: Listen to Judy Time
Trivia:
As in Clock Shock, there is a switch behind the clock that turns off and on.
Telly Time and News Time less happens more often after Episode 361.