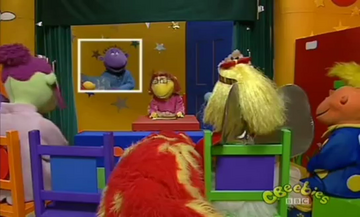 The Tweenies want to watch something when something strange happens... their telly is gone. Max tells them that it will come back from repairing tomorrow. So they have to make their own entertainment and their pretend Tweenie TV is ready. Fizz watches the yellow channel - the same colour as her body - about Bella singing Twinkle, Twinkle, Little Star, Bella watches the red channel about Doodles and Jake doing some juggling, Jake watches the green channel about Judy and Milo telling the pals the story of "the Princess and the Pea" and finally, Milo watches the blue channel about Max and his furry toy monkey Naughty Arnold. Then altogether, they watch the Tweenie Television News known as TTN, hosted by Fizz, who tells them about their news.
Trivia
This is the first episode of the new millennium (2000)..
This was also the first time Max has Naughty Arnold in this episode.
When Jake and Milo press the button the colour they say, the Tweenie TV music is heard, except Fizz and Bella by mistake.
Ad blocker interference detected!
Wikia is a free-to-use site that makes money from advertising. We have a modified experience for viewers using ad blockers

Wikia is not accessible if you've made further modifications. Remove the custom ad blocker rule(s) and the page will load as expected.