Teddy Bear Day is the seventh episode of the fourth series. It's original airing date was on 17th October 2000. It's last airing date was on 27th October 2012.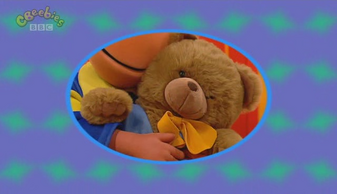 Plot
It's Teddy Bear Day at The Playgroup. Bella, Milo, Fizz and Jake brought their teddy bears. Milo's Teddy is Ted. But he lefts him and Doodles takes care of him for the rest of the day. A bit later on Milo realise that his teddy is gone, making him think that he has left him forever. Doodles shows Ted The Teddy Bear around the garden when accidentally released him into the Front Area of The Playgroup Building. Max founds Ted on his front door and gives him back to Milo. He is happy now that Ted is with him again. And everybody celebrated with a Teddy Bear Picnic.
Song List
Tweenies Theme Tune - Hey, Hey Are You Ready to Play?
Teddy Bear, Teddy Bear
Teddy Bear, Teddy Bear (Milo's version)
Teddy Bears Picnic
Ad blocker interference detected!
Wikia is a free-to-use site that makes money from advertising. We have a modified experience for viewers using ad blockers

Wikia is not accessible if you've made further modifications. Remove the custom ad blocker rule(s) and the page will load as expected.