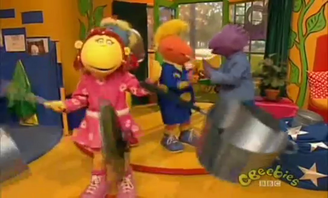 Shiny Metal

Number

26

Air Date

October 11, 1999

Director

Kay Benbow

Previous

Next
Using his magic polish,
Max
shows the Tweenies how to make dull old metal sparkle and shine. The Tweenies find lots of metal objects, and with a little help from
Bella
's fairy wand, fill the room with shiny metal.
Watch Episode
Ad blocker interference detected!
Wikia is a free-to-use site that makes money from advertising. We have a modified experience for viewers using ad blockers

Wikia is not accessible if you've made further modifications. Remove the custom ad blocker rule(s) and the page will load as expected.