Max suggests that the Tweenies play Sardines Milo Goes And Hides While Fizz Jake And Bella Count To Ten 123456 Jake: Uh Uh 9 Bella No Jake It's Seven Next! 78910! Fizz Says Coming Milo Ready Or Not Milo Says I Better Get A Move On! Bella Jake And Fizz Started Looking For Milo Milo HasFound Good Hiding Place The Store Milo Quickly Ran Into The Store And Turns On The Light Theyll Never Find Me Here! Shhhhh!!!!!!!!!!!!!!!!!!!!!!! Jake Fizz And Milo Look All Around The Playroom And He's Not Here! He Must Be Somewhere Else Bella Says Aha! Of Course! Well Done Bella! Milo Sneezes And Bella Found Him She Give Him A Tissue Milo Blown His Nose And HidesMilo Says Mouses Who Got Little Tiny Paws Over The Mouths And Can't Squeak! Fizz Found Them And Hides Jake Tries To Find Milo Fizz Bella The Lights Turn Off But He Saw A Dark Old Cupboard Suddenly He Heard Giggle Noises Wait A Minute! Dark Old Cupboards Don't Make Giggly Noises! Lets Have A Look Aha! The Lights On Found You! Jake Hides Too Doodles Hides Too The Tweenies And Doodles Squeeze In Milo Says I Spy. With My Little Eye Something Benning With............Luh Light! They Said Max arrives and tells them a story, Called, A Squash And A Squeeze but they still don't know how the game ends!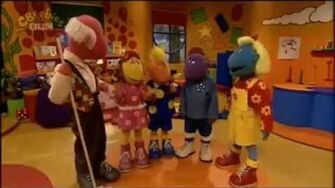 Ad blocker interference detected!
Wikia is a free-to-use site that makes money from advertising. We have a modified experience for viewers using ad blockers

Wikia is not accessible if you've made further modifications. Remove the custom ad blocker rule(s) and the page will load as expected.