Rainbow Magic

Number

20

Air Date

1 October 1999

Director

No information

Previous

Next
Fizz catches sight of a rainbow when she is in the garden and thinks how magical it is. She tries to describe how colourful it was, but the others want to see one for themselves. Judy helps out by getting them to watch some on video and to take note of the many colours that are in a rainbow. They then make their own rainbow with all the colours they can remember and put it up above the window, but will they all see a real rainbow?
Episode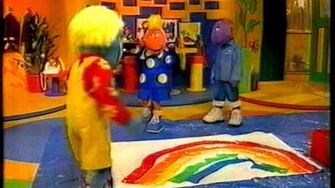 Ad blocker interference detected!
Wikia is a free-to-use site that makes money from advertising. We have a modified experience for viewers using ad blockers

Wikia is not accessible if you've made further modifications. Remove the custom ad blocker rule(s) and the page will load as expected.