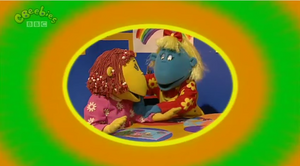 The Tweenies learn that pinching people is naughty, it can hurt and you shouldn't do it.
Trivia
During Story Time, the original story was "Buzz, Buzz, Buzz, Went Bumblebee" by Colin West but in the re-broadcasted version of the episode, it was changed to "Oh No, Anna!" by Vivian French & Alex Ayliffe.
Ad blocker interference detected!
Wikia is a free-to-use site that makes money from advertising. We have a modified experience for viewers using ad blockers

Wikia is not accessible if you've made further modifications. Remove the custom ad blocker rule(s) and the page will load as expected.