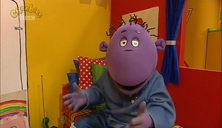 Milo realises how bad it was to pinch Bella's arm as the pals recall being naughty.
Trivia
The episode where Milo pinches Bella hadn't yet been broadcast when this episode was first broadcast.
Watch Episode
Flashback
Milo> 1: Noise and Quiet 2: I Am Me
Bella>1: Bracelet
Jake>1: Stones
Fizz>1: Can't Go There
Doodle>1: Pancake Day
Ad blocker interference detected!
Wikia is a free-to-use site that makes money from advertising. We have a modified experience for viewers using ad blockers

Wikia is not accessible if you've made further modifications. Remove the custom ad blocker rule(s) and the page will load as expected.