''Music is Pop-a-rooney'' is a Tweenies direct-to-video special released on 1st July 2002. It first aired on 24th December 2000 on CBBC as ''Tweenies Top of the Pops Special'' with Top of the Pops end credits instead of the Tweenies end credits (like this release has) and without the three music videos at the end before the end credits.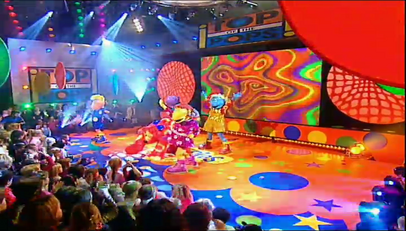 Join Bella, Milo, Fizz and Jake as they fulfil their dreams and perform in front of a Top of the Pops audience. They each have their favourite pop-a-rooney tunes they are eager to play, and they each speak about the secrets of their success when Judy comes to interview them
Songs from Top of the Pops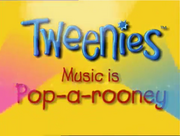 Trivia
Both the VHS and DVD release was released in 4:3 whilst when this re-aired as ''Tweenies Top of the Pops Special' after CBeebies became in existance it aired in 16:9.
The music videos for ''Do the Lollipop'', ''Best Friends Forever'' and ''No.1'' are included.
On the DVD release the music video for ''Have Fun Go Mad!'' is a bonus feature.
On the VHS cover it has the CBeebies logo on the front and back and it has the Black BBC block logo on the spine/side.
On both the VHS and DVD covers there is a typo. When it states the music videos it says ''Lollipop'' when the song is actually called ''Do the Lollipop''.
Releases