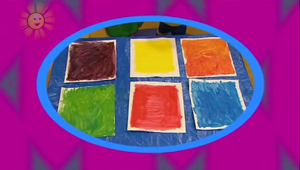 Mixing Colours

Number

155

Air Date

25 August 2000

Director

Kay Benbow

Previous

Next
Max has a puzzle for the Tweenies: how do you make six colours from only three pots of paint? They struggle at first, but by accident they discover that by mixing two colours together they can create a new colour. Proudly they present Max with six pieces of paper, each painted a different colour. Max is able to stick each piece of paper on the sides of a cardboard box to make a giant coloured dice, which they use for a colour game.
Watch Episode
Ad blocker interference detected!
Wikia is a free-to-use site that makes money from advertising. We have a modified experience for viewers using ad blockers

Wikia is not accessible if you've made further modifications. Remove the custom ad blocker rule(s) and the page will load as expected.