Max Blows a Fuse is the twenty first episode of the fourth series. It's original airing date was on 6th November 2000. It's last airing date was on 10th November 2012.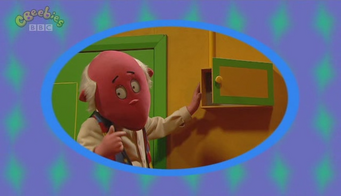 Plot
Max wants to show a slideshow of his holiday. But by the time he switches on his projector, the fuse box can't handle it with too much power in it's volts. Max tries to sort out the fuse box. Only to make matters worse. Luckily Sparky The Electrician came and fixes the fuse box. Judy wasn't too pleased about Max. She even said that he is worst than The Tweenies sometimes.
Song List
Tweenies Theme Tune - Hey, Hey Are You Ready to Play?
In the Dark, Dark Night
We're Hunting with Our Torches
Trivia
This episode has a reference to Only Fools and Horses. When Sparky the electrician is looking at the fuse box he nearly says ''Plonker''.
Ad blocker interference detected!
Wikia is a free-to-use site that makes money from advertising. We have a modified experience for viewers using ad blockers

Wikia is not accessible if you've made further modifications. Remove the custom ad blocker rule(s) and the page will load as expected.