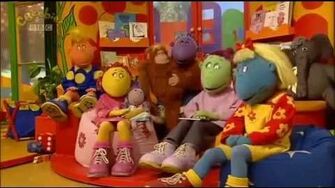 Poor Bella isn't her usual self today. She tells the Tweenie gang that she has lost her smile. Max tries to encourage Doodles to keep fit so he can have chocolate and biscuits, but he is too busy sleeping. Bella wants someone to help her find her smile again. Perhaps the story, "Where's Your Smile Crocodile?" will help. Maybe Milo can have Naughty Arnold. Izzles tells Doodles to keep running around to see what to eat. But then a loud crash is heard, and Doodles has a bin stuck on his head! That made Bella laugh! At last she has found her smile!
Trivia
The monkey Naughty Arnold Milo has is Max's favourite toy that was from the episode Television.
Ad blocker interference detected!
Wikia is a free-to-use site that makes money from advertising. We have a modified experience for viewers using ad blockers

Wikia is not accessible if you've made further modifications. Remove the custom ad blocker rule(s) and the page will load as expected.