''Let's Play'' is a Tweenies clip show released in 2002.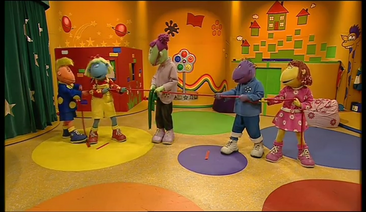 Hey, hey are you ready to play? Then join the Tweenies as they sing, dance, laugh and play! Can you find the hidden Tweenies before Bella does? See what happens when Fizz rescues the giant snake from Milo. Sing songs and play games as Bella, Milo and Fizz teach Jake about pushing and pulling. Judy's bananas have gone missing! The Tweenies are playing tricks and monkeying about – you can be a cheeky monkey too! Doodles, Izzles and the Tweenies are putting on a show. When Jake wants to dance like his friends, he practises hard and soon all the Tweenies are performing their favourite dances together.
Segments
Releases
Ad blocker interference detected!
Wikia is a free-to-use site that makes money from advertising. We have a modified experience for viewers using ad blockers

Wikia is not accessible if you've made further modifications. Remove the custom ad blocker rule(s) and the page will load as expected.