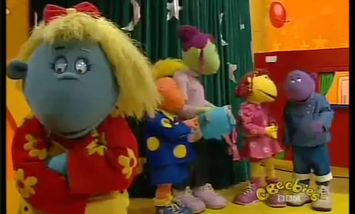 The Tweenies are having a one, two, three day prompted by Judy bringing in three cardboard boxes. Unfortunately, Bella is a bit late and left out because she didn't choose an instrument in the song I Am The Music Man. Milo, Fizz and Jake all chose the piano, the big base drum and the violin. Bella could have been playing the saxophone. Bella talked and shouted she go to hide in discovering this, and opts out of the ensuing games. Although the others in no way intend to exclude her, Bella feels left out and the final straw is when she doesn't get to play a bear in Goldilocks.
Ad blocker interference detected!
Wikia is a free-to-use site that makes money from advertising. We have a modified experience for viewers using ad blockers

Wikia is not accessible if you've made further modifications. Remove the custom ad blocker rule(s) and the page will load as expected.