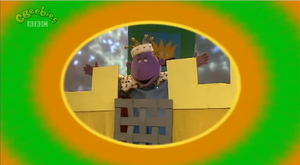 Max creates a castle in the garden for the Tweenies and Doodles pretends to be a dragon. Milo is the king, Bella is the queen, Fizz is the dirty rascal and Jake is the Grand Old Duke of York.
Trivia
The story for Story Time is King Rollo and the New Stockings by David McKee.
Ad blocker interference detected!
Wikia is a free-to-use site that makes money from advertising. We have a modified experience for viewers using ad blockers

Wikia is not accessible if you've made further modifications. Remove the custom ad blocker rule(s) and the page will load as expected.