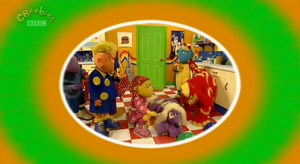 Izzles isn't feeling well today. She goes off her food, dreaming, and Doodles solves the problem. The Tweenies can't understand how Izzles was ill, so they take her to the Tweenie TV for the first time. They see how the vet (the animal hospital) helps animals get better. One minute, Judy phoned the vet the bad news about Izzles, but the next minute, she got good news - she brought dog biscuits from the vet! She feeds Izzles the biscuits and she is feeling much better.
Trivia
This is the first time Izzles gets to see the circles of the Tweenies TV. However, the camera missed the ending of the Tweenie TV circles a bit.
Ad blocker interference detected!
Wikia is a free-to-use site that makes money from advertising. We have a modified experience for viewers using ad blockers

Wikia is not accessible if you've made further modifications. Remove the custom ad blocker rule(s) and the page will load as expected.