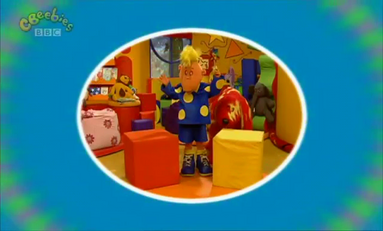 Jake finds out what "in between" means, with a little help from Doodles.
Judy's Treasure Hunt with Mungo
"Your hidden treasure you will find, under a place that tells the time".

GREEN CLUE (Milo's Answer = On A Pile of Books in the Reading Area)
"You really don't have far to look, your treasure is on a pile of books".

YELOW CLUE (Jake's Answer = In Between the Squidgy Squares)
"Your bag of gold is over there, in between the squidgy squares".

BLUE CLUE (Bella's Answer = Next to the Slide)
"First go up, then come down and your treasure will soon be found".

Trivia
The song Fizz and Bella are listening to is based on "Knowing Me, Knowing You" by ABBA.
Ad blocker interference detected!
Wikia is a free-to-use site that makes money from advertising. We have a modified experience for viewers using ad blockers

Wikia is not accessible if you've made further modifications. Remove the custom ad blocker rule(s) and the page will load as expected.