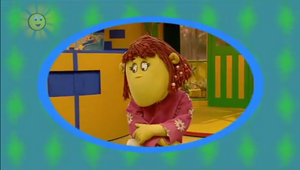 Fizz doesn't want to sing today, and she doesn't want to join in with the picnic Max is organising. She doesn't like any of the sandwiches on offer, even though there is cheese, ham, honey or jam. Milo tries to cheer her up by singing a song about all the things she doesn't like, but it's Judy who finally persuades Fizz to join the picnic - by finding something that she does like to eat.
Ad blocker interference detected!
Wikia is a free-to-use site that makes money from advertising. We have a modified experience for viewers using ad blockers

Wikia is not accessible if you've made further modifications. Remove the custom ad blocker rule(s) and the page will load as expected.