I'm Better Than You is the fifth episode in the fourth series. It's original airing date was on 13th October 2000. It's last airing date was on 25th October 2012.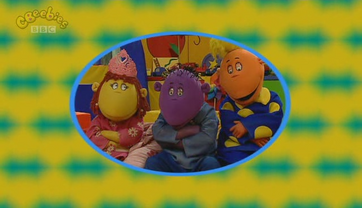 Plot
Bella keeps saying that she's better than the others. They decide to get their own back. Max helps them set up some fun fair games, and Bella doesn't win at any of them. She promises never to say 'I'm better than you' again, because everybody is good at different things.
Song List
Tweenies Theme Tune - Hey, Hey Are You Read to Play?
The Wheels on the Bus
Episode
Ad blocker interference detected!
Wikia is a free-to-use site that makes money from advertising. We have a modified experience for viewers using ad blockers

Wikia is not accessible if you've made further modifications. Remove the custom ad blocker rule(s) and the page will load as expected.