Growing Bulbs

Number

25

Air Date

October 8, 1999

Director

Robin Carr

Previous

Next
Jake
brings in a strange object. The Tweenies don't know what it is, although
Milo
thinks it is a space ship. In fact, it is a daffodil bulb. After watching the TV about "how flowers grow into bulbs", they each plant a bulb, and - because the bulbs won't grow immediately - make paper plants for the plant pots.
Trivia
There's an interesting goof on the television about bulbs that the stock footage about them is used from the Come Outside episode "Bulbs". The Tweenies fans saw it.
When Judy shows the Tweenies about bulbs, the Tweenie TV tune doesn't begin, and neither do the circles, but the tune does end there.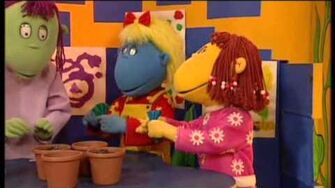 Ad blocker interference detected!
Wikia is a free-to-use site that makes money from advertising. We have a modified experience for viewers using ad blockers

Wikia is not accessible if you've made further modifications. Remove the custom ad blocker rule(s) and the page will load as expected.