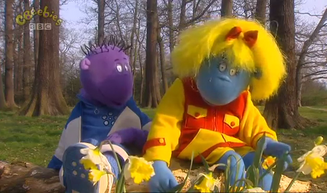 Milo accidentally breaks Bella's wand, so she goes in search of a new one and decides that a flower with a long stem will do very well. Luckily, Judy catches her before she cuts it. Judy explains why she shouldn't pick wild flowers and takes Bella and Milo to the park to have a closer look at lots of different flowers.
Watch Episode
Ad blocker interference detected!
Wikia is a free-to-use site that makes money from advertising. We have a modified experience for viewers using ad blockers

Wikia is not accessible if you've made further modifications. Remove the custom ad blocker rule(s) and the page will load as expected.