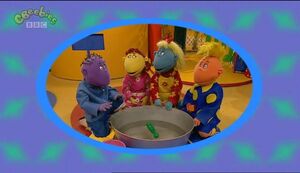 It is Doodles' bath day and he's hiding from Max and will not go near the bath. The Tweenies discover which objects float and sink, and make boats race in the bath. Milo has a plan to get Doodles into the bath. He lays a trail of dog biscuits, but Doodles has a better idea.
Ad blocker interference detected!
Wikia is a free-to-use site that makes money from advertising. We have a modified experience for viewers using ad blockers

Wikia is not accessible if you've made further modifications. Remove the custom ad blocker rule(s) and the page will load as expected.