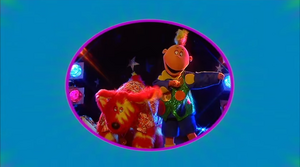 The
Tweenies
decide to do their own version of Top Of The Pops. They each think of their favourite song, but
Jake
can't decide which song is his favourite - there are so many! However,
Doodles
comes to the rescue when he has an idea.
Trivia
This episode was removed from repeats after the BBC got complaints after the airing on CBeebies on 13th January 2013, as Max impersonates Jimmy Savile - however, it was released on the CBeebies Greatest Hits DVD.
When it was Surprise Time on the Tweenie Clock, Bella, Milo and Fizz shouted "It's show time!" instead of Surprise Time. The Surprise Time tune sounds different, too.
Ad blocker interference detected!
Wikia is a free-to-use site that makes money from advertising. We have a modified experience for viewers using ad blockers

Wikia is not accessible if you've made further modifications. Remove the custom ad blocker rule(s) and the page will load as expected.