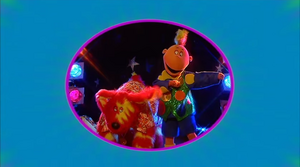 The
Tweenies
decide to do their own version of Top Of The Pops. They each think of their favourite song, but
Jake
can't decide which song is his favourite - there are so many! However,
Doodles
comes to the rescue when he has an idea.
Trivia
This episode features Max donning a wig and voice akin to the late TV presenter Jimmy Savile, who was the subject of a major sex scandal after his death in which it was revealed he had sexually abused children for decades. Although this episode was originally broadcast in 2001, before the extent of Savile's crimes were known, CBeebies inadvertently broadcast the episode after his crimes were found out, on 13 January 2013. 216 complaints were received, resulting in the BBC apologising and removing the episode from rotation.
This episode was released on the CBeebies Greatest Hits DVD.
When it was Surprise Time on the Tweenie Clock, Bella, Milo and Fizz shouted "It's show time!" instead of Surprise Time. The Surprise Time tune sounds different, too.