''Enchanted Toyshop'' is a Tweenies episode video. It was released on 29th October 2001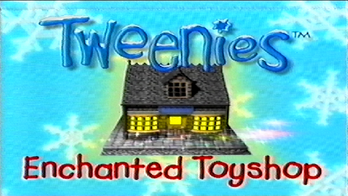 Bella brings her granny's old toy toyshop to the Playgroup and each Tweenie takes it in turn to visit the shop and see the toy of their dreams.
Songs
1. Tweenies Theme Tune - Hey, Hey Are You Ready to Play?
2. When Santa Got Stuck Up the Chimney
3. Welcome to the Enchanted Toyshop
5. Jingle Bells
7. It Wouldn't Be A Circus If It Wasn't For The Clowns
10. We Wish You A Merry Christmas
13. Starlight
14. Welcome to the Enchanted Toyshop (Reprise)
Episodes
Releases