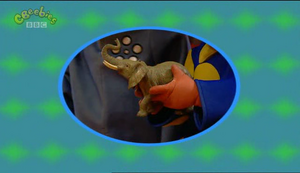 Elephants is the eleventh episode of the fourth series. It's original airing date was on 23rd October 2000. It's last airing date was on 31st October 2000.
Plot
The Tweenies have great fun today as they have an elephant day and turn their slide into an elephant's trunk!
Song List
Tweenies Theme Tune - Hey, Hey Are You Ready to Play?
This Old Man
Elephant's Back
Trivia
There are two different version of this episode, the original and the re-broadcast. The differences between the two are that they both have different Story Time's.
Episode
Ad blocker interference detected!
Wikia is a free-to-use site that makes money from advertising. We have a modified experience for viewers using ad blockers

Wikia is not accessible if you've made further modifications. Remove the custom ad blocker rule(s) and the page will load as expected.