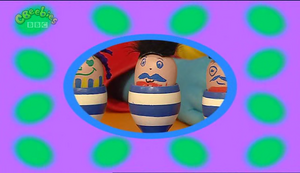 Milo gets so excited doing the Hokey Cokey, he bumps into Judy and she drops the shopping - breaking the eggs! The Tweenies find out where eggs come from, hear why Humpty Dumpty sat on the wall, and join in with the egg hunt.
Ad blocker interference detected!
Wikia is a free-to-use site that makes money from advertising. We have a modified experience for viewers using ad blockers

Wikia is not accessible if you've made further modifications. Remove the custom ad blocker rule(s) and the page will load as expected.