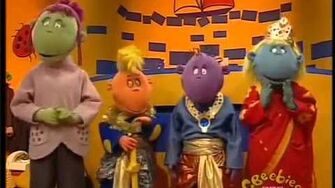 Diwali is the fourteenth episodes of the fourth series. It's original airing date was on 26th October 2000. It's last airing date was on 13th November 2012.
Plot
Fizz brings some Diwali sweets for everyone to try, and Judy shows the Tweenies a video about the festival. She has also brought in some Diwali costumes, and the Tweenies act out the story of Princess Sita, Prince Rama, Prince Lakshman and Hanuman the magical monkey.
Song List
Tweenies Theme Tune - Hey, Hey Are You Ready to Play?
Rhythm of the Music
In the Deep Dark Jungle
Ad blocker interference detected!
Wikia is a free-to-use site that makes money from advertising. We have a modified experience for viewers using ad blockers

Wikia is not accessible if you've made further modifications. Remove the custom ad blocker rule(s) and the page will load as expected.