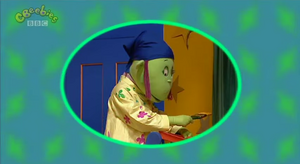 Max and Judy decorate the playroom, and the pals help out - but soon decide it was fine in the first place.
Mungo's Decorating Page
PAINTING
STENCILLING
WALLPAPERING
OTHER CHANGES
Trivia
This is the second time the Surprise Area gets decorated, the first was in Printing.
This is The First Episode To Mark An Early Appearance Of Izzles The Second Was What's in The Box As She Would Later in The First Episode Of Series 7.
The Places
Bella - The Telly
Milo - The Messy Time Area
Fizz - The Story Area
Jake - The Tweenie Clock
Izzles - The Squishy Shapes