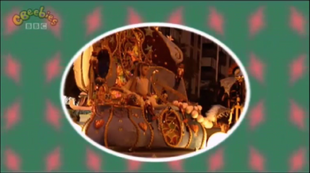 It is Max's last day in Tenerife, so he visits a carnival with the Spanish friends Enrique and Frederico. and writes a note to the Tweenies and Judy.
It says: ''Dear whoever-it-is, I've had a lovely holiday - sun hot, food good, sky clear, and water fun, wish you were here, with lots of love and kisses from Max".
He sees banana trees, flowers and has a coffee for a relaxation. He visits the Santa Cruz Carnival for the last time before setting off home to England for everybody to meet him again.
Trivia
This episode has the last time Max visits Tenerife.
The Tweenie Playgroup is in England since The British Programme started back in 1999.
Ad blocker interference detected!
Wikia is a free-to-use site that makes money from advertising. We have a modified experience for viewers using ad blockers

Wikia is not accessible if you've made further modifications. Remove the custom ad blocker rule(s) and the page will load as expected.