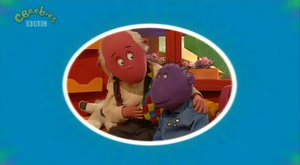 Milo is having a clumsy day and learns to take his time. But he never does - he almost biffs Bella and bumps Fizz, and even stands on Doodles's tail. Max knows that sometimes you take time not to get clumsy, but sometimes it's alright to be clumsy too! He tells Milo the funny song about being clumsy! The Tweenie Gang show him how to take time by playing an obstacle course. But then they knock the course over by mistake! Max and Milo laugh that they should take their time too!
Trivia
The original story from the CBBC programming was "Zoom!" by Trish Cooke and Alex Ayliffe, but on the rebroadcasting version of the video, it is changed to Sssshh! Don't Wake the Baby.
It funnily seems to one of the Tweenies fans that Bella's saying "Milo is Mr. Clumsy today!" is an interesting goof to one of the 1975 book from the Mr Men.
Ad blocker interference detected!
Wikia is a free-to-use site that makes money from advertising. We have a modified experience for viewers using ad blockers

Wikia is not accessible if you've made further modifications. Remove the custom ad blocker rule(s) and the page will load as expected.