THIS ARTICLE IS IN NEED OF AN EXTENSIVE REWRITE.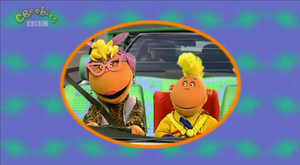 Jake isn't in the mood of in such a traffic jam, but has fun in the car with his mum playing Say It If You See It, and reading about "the Big Red Bus that Gets Stuck in the Hole in the Road". Meanwhile, the same can't be said for the rest of the Tweenie gang. Bella, Fizz and Milo are all bored at playgroup without Jake. They are very angry and sorry for themselves about what they have done badly - they play I-Spy, they try to have the story (Bella wanting the story about "pirates", Milo wanting "Robin Hood" and Fizz wanting "the Elephant that got Hiccups") but tear the books - and Judy gets furious about that. But then the traffic jam has vanished, because the cars are moving again, and Jake and his mum arrive at the Tweenie Playgroup Nursery. Jake says hello to Doodles and comes to see what the matter is. Well, Milo, Fizz and Bella tell Judy about how bad they were, but Jake tells them about what a lot of fun he has in the car, including himself singing a song about "the Spider". They also tell her the I-Spy game that they are hardly keen on playing at, but he tells them about Say It If You See It (the game where you see something in the street or countryside), and they tell her the books they tore, but he tells them the story he had..."the Big Red Bus and the Hole in the Road". Milo, Fizz and Bella sadly apologize to Judy and she forgives them. They soon do not mind they they should share their games. But Judy tells them to get to Jake! But try not to be worried, that's another episode/
Ad blocker interference detected!
Wikia is a free-to-use site that makes money from advertising. We have a modified experience for viewers using ad blockers

Wikia is not accessible if you've made further modifications. Remove the custom ad blocker rule(s) and the page will load as expected.