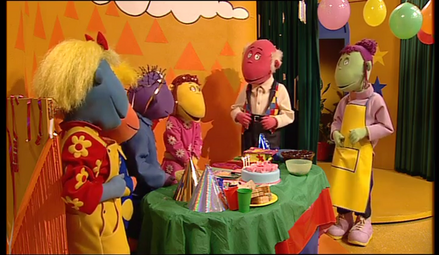 Birthday

Number

28

Air Date

13 October 1999

Writer

Paul Cole

Director

Robin Carr

Previous

Next
First, it is song time, and the Tweenies (excluding
Fizz
, as she has gone out with
Judy
and
Doodles
so that the remaining three Tweenies can prepare for Fizz's surprise birthday party) sing the song Five Currant Buns. The Tweenies then decorate the playroom, while helping
Max
make Fizz a birthday card, and sing the song "Happy Birthday to our friend". The Tweenies think they have forgotten Fizz's birthday cake, but Max reveals that he has managed to save the day just in time. His friend Katie, who lives next door to him, has made a cake decorated with ballet shoes just in time for Fizz's party. He shows
Bella
,
Milo
and
Jake
a video of the cake being made and decorated during Telly Time. The cake is delivered to the the table, and Max covers the cake with a cloth to hide it as Doodles, Judy and Fizz arrive. It is now Story Time, and the book Bunny Cakes by Rosemary Wells is read. After the story has finished, everybody celebrates Fizz's birthday by throwing a surprise party with the cake seen being decorated during Telly Time earlier. They sing happy birthday to Fizz, and they give her some birthday presents: a jigsaw from Bella, crayons from Milo, jelly babies from Jake and finally, a song book, with a tape, from Max and Judy. They then show Fizz her birthday card. The candles on the cake are blown out, and the Tweenies each enjoy a piece of the cake.
Trivia
The version of this episode included on the CBeebies Ultimate Party Collection DVD has the story time segment cut out for unknown reasons, bringing the length of the episode down to 15 minutes.
No one presses the Tweenie Clock before Story Time
Ad blocker interference detected!
Wikia is a free-to-use site that makes money from advertising. We have a modified experience for viewers using ad blockers

Wikia is not accessible if you've made further modifications. Remove the custom ad blocker rule(s) and the page will load as expected.