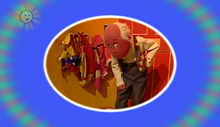 Bella calls Milo, Fizz and Jake on her meeting table. She tells them that they are worried about Max's old age, so they decide to help him - with disastrous consequences. Bella and Fizz wanted him to dance and Jake and Milo wanted to play bowling with him, but he is angry. The Tweenies are meanwhile sorry for what they have done to Max, when their Tweenie teacher comes with Izzles to play a running game. Now he is happy again!
Trivia
This is the first time the Tweenies watch the TV with Doodles.
Ad blocker interference detected!
Wikia is a free-to-use site that makes money from advertising. We have a modified experience for viewers using ad blockers

Wikia is not accessible if you've made further modifications. Remove the custom ad blocker rule(s) and the page will load as expected.