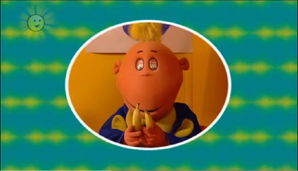 Doodles shows an interest of Jake's bananas. He unfriendly took one banana away from his best friend at a time. Jake becomes sad because his favourite food are all gone. So Bella, Milo and Fizz took Jake on a banana hunt. Not one banana was founded, until Doodles surprises everybody with all five bananas still in his bucket. Jake sings a popular song of Bananas. Making it so Top of the Pops back in 2001, the company decided to make a pop song of the same thing from the episode: Bananas.
Watch Episode
Ad blocker interference detected!
Wikia is a free-to-use site that makes money from advertising. We have a modified experience for viewers using ad blockers

Wikia is not accessible if you've made further modifications. Remove the custom ad blocker rule(s) and the page will load as expected.