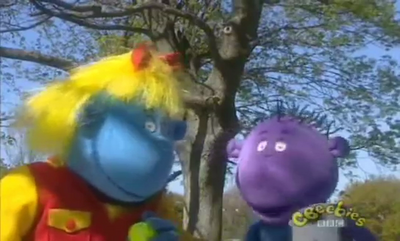 Ball

Number

17

Air Date

No information

Director

Robin Carr

Previous

Next
Milo wants to play with the ball in the nursery, but he accidentally almost hurts Jake and broken Judy's Plant. Poor Milo is feeling sad about not playing ball. So what if Max could take
Milo
and
Bella
to the park to play? They have a look at various parts of the park before they are sure that it is the right place to play with a ball. Back in the Playroom,
Judy
is showing
Fizz
and
Jake
how to play skittles with a ball which is the right size for indoors. Then Milo and Bella play a game of "who can throw the ball the highest" - Milo bouncing his ball higher than the tree and clouds and Bella bouncing her ball higher than a tall building and Moon. After an accident with throwing the ball over the bushes, they started to search for it. They are tired so Max tells them the story about Henry's Ball. Then after a break, it is then that Max saw the ball on the bush at last. When he, Milo and Bella get back to the nursery to find, Jake, Judy and Fizz, they all discover that you can have fun with a ball anywhere. Judy tells Milo the funny flick-chart that he shouldn't throw the ball in the bush, so they started giggling. Finally, Max lets them watch him juggle with the balls, for he is nick-named as Marvellous Max!
Ad blocker interference detected!
Wikia is a free-to-use site that makes money from advertising. We have a modified experience for viewers using ad blockers

Wikia is not accessible if you've made further modifications. Remove the custom ad blocker rule(s) and the page will load as expected.