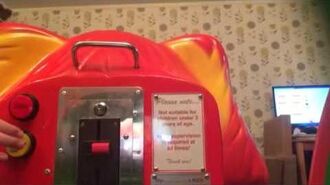 Amutec is a maker of kiddie rides. They created a Tweenie rocket ride in 2001 and a Doodles ride in 2006, both of which can be seen out in the wild to this day.
Trivia
On both rides, they used the theme song from Pot of Gold.
Versions of the rocket ride with the original Amutec soundboard are rare - most rides were refurbished by Jolly Roger (Amusement Rides) LTD.
Amutec is founded in Mablethorpe.
Amutec was purchased by Bandai Namco Co. Ltd. in 2007.
The Tweenie rocket ride made an appearance in the Woolly and Tig episode "The Funfair" along with a Garfield and a Thunderbird 1 ride.
Ad blocker interference detected!
Wikia is a free-to-use site that makes money from advertising. We have a modified experience for viewers using ad blockers

Wikia is not accessible if you've made further modifications. Remove the custom ad blocker rule(s) and the page will load as expected.