The Tweenies have been preparing a play: the story of Aladdin. They've got together costumes, sets and some props, all prompted by Judy having found a magic lamp in a car boot sale. Each Tweenie has a part they can really get their teeth into. Fizz is the beautiful princess, Bella the two genies, Milo is Aladdin and Jake plays the wicked Uncle Abanazer, who has a wicked dog, Smuttley - a part specially written for Doodles.
Episode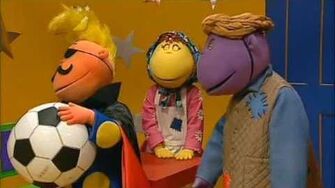 Ad blocker interference detected!
Wikia is a free-to-use site that makes money from advertising. We have a modified experience for viewers using ad blockers

Wikia is not accessible if you've made further modifications. Remove the custom ad blocker rule(s) and the page will load as expected.